Artificial intelligence is often reviled in the educational context and Germán Ruipérez, Professor of German Linguistics at the National Distance University (UNED), has set out to demonstrate that its use in language teaching does not have to be harmful. That is why he and his team have used the ChatGPT language model to write the statement for the German Selectivity exam for students who, after completing their baccalaureate in a foreign center, have taken the UNED exams this week. , which in their case are called PCE (Specific Competence Tests).
The exam is formulated by consensus and Ruipérez, coordinator of Alemán, proposed to the team ―made up of university and institute professors― to see how ChatGPT "could prepare a proposal and then make the corrections." There were no objections and they started testing. Some experts ask that the development of ChatGPT, a tool that already has 100 million users, be stopped and regulated.
Aware of their lack of knowledge of the tool, they consulted the manual ChatGPT. Precise instructions for optimal results, of the trainer in new technologies applied to education Meritxell Viñas, that teaches to develop prompts, detailed instructions to get the most educational performance. "The surprise is that ChatGPT generates texts in the languages ​​it says it speaks well and you can define the topic, the level of language and even say: 'And now ask me a series of specific questions about this text,'" explains Ruipérez, who was appointed in 1999 the first director of Advanced Technologies of the UNED.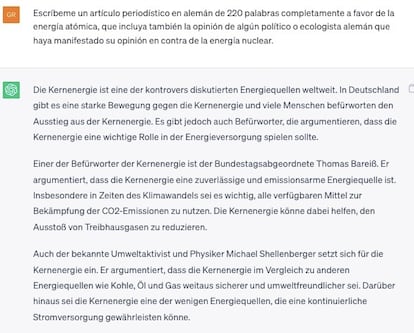 The mandate to the machine read as follows: "Write me a 220-word German newspaper article completely in favor of atomic energy, including also the opinion of some German politician or environmentalist who has expressed his opinion against nuclear energy." They tried more than a dozen texts in the same chat, which is learning.
They were happy. "There was some minimal error. I would give it an 8.5 out of 10. ChatGPT is like a Swiss Army knife, it has many tools and for some things it is terribly bad and for languages ​​it is surprisingly good".
Ruipérez compares: "It is not an automatic robot, but a luxury adviser that you get for free." And he reasons: "At UNED we have an agreement with the DAAD (German Academic Exchange Service) that offer native readers, who are the ones you commission to do this type of work. So now you have someone who writes very well and who, with a hit of Enter, in 10 minutes gets you 10 Selectividad exam proposals".
Through some questions of written comprehension of the text and others of free opinion, it is evaluated if the student has the B2 level (advanced independent user) required by the EBAU. And again they entrusted themselves to the language model. "We asked him to propose questions, but we also rejected it," she says. She adds more praise: "He is very productive. I calculate that it used to take about 50 hours, between making proposals, looking for texts, adapting them to the B2 level of German, asking questions… And with ChatGPT, in five hours, in one afternoon, you have an offer".
About 50 students from the other UNED centers took the exam this Tuesday and this Friday it will be the turn of about fifty other centers, again with ChatGPT as an assistant. The first applicants did not make any objections, neither during the exam nor afterwards. They were warned in a footer: "Source of the main text and subsequent questions: ChatGPT (https://chat.openai.com; date of access: 11.04.2023)".
As an experiment, the German evaluators at UNED are going to correct with ChatGPT. "We received the scanned exams and I am going to ask you to correct and mark the text in red. But the first and last responsibility we are going to have, it is help. I now don't know how ChatGPT is going to behave, but it detects very reasonable things in the examples on the web. Sometimes people see him as the great guru. No, it's like that, sometimes he messes up. Obviously, it is not going to replace the correction because it is a more complex topic. We must not forget that it is a very dynamic tool that is learning".
Ruipérez was involved in the enormous challenge that 200,000 students of this university on-line, equivalent to the population of Pamplona or Almería city, connected by computer to receive classes and their new challenge is this tool. On the German UNED platform they are using ChatGPT to offer texts and exercises. "You can say to him: 'Make me a text about bullying in Germany in which words are omitted ―to fill in the gaps― and ask questions about the verb forms', for example", continues Ruipérez. "And then you say: 'Number the gaps (in the words) and include the solution.' Obviously you check it later, but the raw text is 80% of the work. You lose the fear of the blank sheet".
Nuria Oliver, an expert in artificial intelligence, delved into this in a recent interview in EL PAÍS: "It will be very difficult for a human being to resist the temptation of not asking a great language model to tear up a blank page. Although perhaps it will help us to start and we will continue. But there will also be algorithmic creations, in which there is no guarantee of veracity, even if it sounds very credible".
You can follow EL PAÍS EDUCATION in Facebook and Twitteror sign up here to receive our weekly newsletter.
75% discount
Subscribe to continue reading
Read without limits