Today you can make this dream come true thanks to remote work and digital nomadism. Using state-of-the-art technology, you'll be able to manage your time and streamline customer communication as you travel the world. You no longer have to choose between earning a living and traveling, because you can do both in today's world.
In this article, we share three tips to get a freelance job in digital marketing from Spain and succeed.
Tip # 1. Create your personal brand
Creating a personal brand is important when you aspire to be a freelance worker. Why is this so crucial? To start, a strong professional identity It will allow you to show your clients as an expert. Also, with an excellent reputation, it will be easier for you to prospect and have more clients.
whatHow to become a freelance in Spain? Apply these tips to build a consistent professional brand as a freelance digital marketing expert:
Create a portfolio:

The portfolio is always the best cover letter for any freelancer, but doing so requires wisdom. Use Google Sheets or design a web page to showcase your best work. Also, remember to have your portfolio updated because this is something vital for your clients.
Use social networks:

Imagine social networks as a showcase. There you can show your talent and become an authority on

digital marketing

. Another advantage of social networks is the possibility of connecting with colleagues and interacting with followers who can become your prospects.

Post a blog:

creating blogs and aligning them with content marketing strategies could help you build that place of authority you seek and attract prospects. Write about relevant topics and share what you do on all your social networks.
Tip # 2. Expand your skills and knowledge
Another step in building a freelance career in marketing, while also dabbling in digital nomadism, is to expand your skills and knowledge. Fortunately, there are many resources online that will allow you to learn what you need and even earn certificates that will enhance your professional resume.
Here we share two ideas for you to train yourself and become an expert in digital marketing and freelance work:
Online courses:

Udemy, Domestika, Coursera, Crehana, Platzi, Netzun and Skillshare offer you a wide variety of marketing courses ranging from email database management to

influencer marketing

. You can obtain course certificates that will accredit you as a freelance specialist in digital marketing.

Webinars

: Companies and influencers offer free webinars to share their experiences. Take advantage of them and be the best marketer while enjoying leisure and travel.
Tip #3: Get organized to succeed as a digital nomad in the world of digital marketing
Being a digital nomad is a growing trend, and many of us have decided to combine our passion for marketing with our desire to travel..
However, like everything in life, this lifestyle requires organization and a lot of discipline. Managing time, using technology to communicate with clients and contacting travel agencies will optimize your organizational capacity.
Here are some steps to get organized and succeed as a freelance marketer.
Manage time well
Traveling is exciting and tends to occupy our heads. For this reason, resisting discovering new places to prioritize work is a recurring difficulty for freelancers who are dedicated to digital nomadism. Hence it is important to cultivate a balance between work and leisure.
First, establish work hours and commit to respect them. For example, you can set aside your most productive time of the day to do the most difficult tasks.
Then, spend the few remaining hours on mechanical tasks, such as answering emails and communicating with clients. If you succeed, you can reward yourself with trying out a new restaurant or going to a party with other digital nomads.
Use technology in your favor
Technology is your main ally when it comes to communicating with customers and having more prospects.
You can use instant messaging applications like WhatsApp or Slack to give clients reports of your work. In addition, you can use online management tools to do your homework, such as Trello or Asana.
And if you need to have a consultative selling meeting with a new prospect, a video conferencing platform like Zoom or Skype will be great.
We only recommend that you take into account time and cultural differences when providing your digital marketing services as a freelance specialist. In case you need more clients, you can use platforms like Upwork or Freelancer to search for work.
Let the travel agencies help you
You can leave the organization of your travel reservations and aparthotels in the hands of Spanish travel agencies to prioritize your work.
Many of these agencies offer advice and support services for digital nomads, helping you find places with good internet connections and coworking spaces. In this way, you increase your productivity as a freelancer in digital marketing.
Take advantage of these tips to succeed in freelance marketing and digital nomadism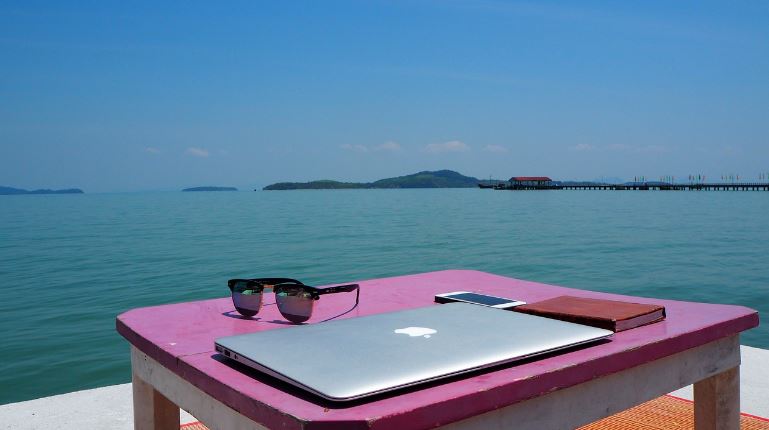 With the right organization, it is possible to work in digital marketing while traveling the world. By following our three tips, you can enjoy the freedom of traveling without sacrificing the quality of your work as a digital marketing expert. Your clients will be as happy as you.
Don't forget how important it is to cultivate a personal brand, broaden knowledge and skills, and balance work and leisure time. Technology and travel agencies will help you communicate with clients and save time that you can invest in your professional career. Go ahead with your dream of traveling and working!