Some time ago Samsung decided to launch in Spain its range of smart monitors that integrated the best of monitors and Smart TVs. These monitors designed for productivity use the Tizen operating system of the Korean company's high-end televisions, resulting in a very interesting concept for those who want something more from their monitors. Now, Samsung has renewed its Smart Monitor launching its new models worldwide.
More specifically, this range of monitors is made up of up to 9 monitor models and in this case, the new Smart Monitor M5, M7 and M8 make an appearance, which come in sizes ranging from 27 to 32 inches diagonally. The top model, as a reference, has a 4K resolution and a size of 32 inches, being dedicated to productivity in large formats.
These devices stand out enormously in their design section, which has been enhanced in this generation. And it is that they are not only fine monitors, but aspects such as support or versatility have also been improved, since now the M8 for example They can pivot up to 90 degrees.
New Samsung monitors
The models in question that reach the forefront of Samsung products are the M8 (M80C), M7 (M70C) and M5 (M50C). While the M8 and M7 stay at 32 inches, the M5 includes a smaller 27-inch variant, although 4K resolutions are reserved for the higher models.
They are all 16:9 monitors and while the maximum brightness is taken by the M8 with 400 nits, the M7 and M5 stay with 300 and 250 nits respectively. Something similar happens with HDR compatibility; the M8 gets HDR 10+, but its smaller siblings get 'only' HDR 10. All 3 monitors include 60Hz refresh rates and a 4ms response time. Of course, only the M7 and M8 receive 99% sRGB color coverage.
The M8 is logically the device that has received the most updates, such as the aforementioned height-adjustable stand that also has tilt support. We can also see the inclusion in the whole range from the Samsung Gaming Hub, Samsung's cloud video game platform, as well as the Smart Hub to offer services such as Prime Video, YouTube or Netflix, thanks to the presence of an intelligent operating system.
Other additions include a removable magnetic camera for Full HD video conferencing and support for apps like Google Meet (included on the M8, not on other models). There is also no option multiview, to use two screen fonts at the same time and greatly increase multitasking. On the other hand, a very useful control function has been added using mouse and keyboard in many applications, without the need for a remote control.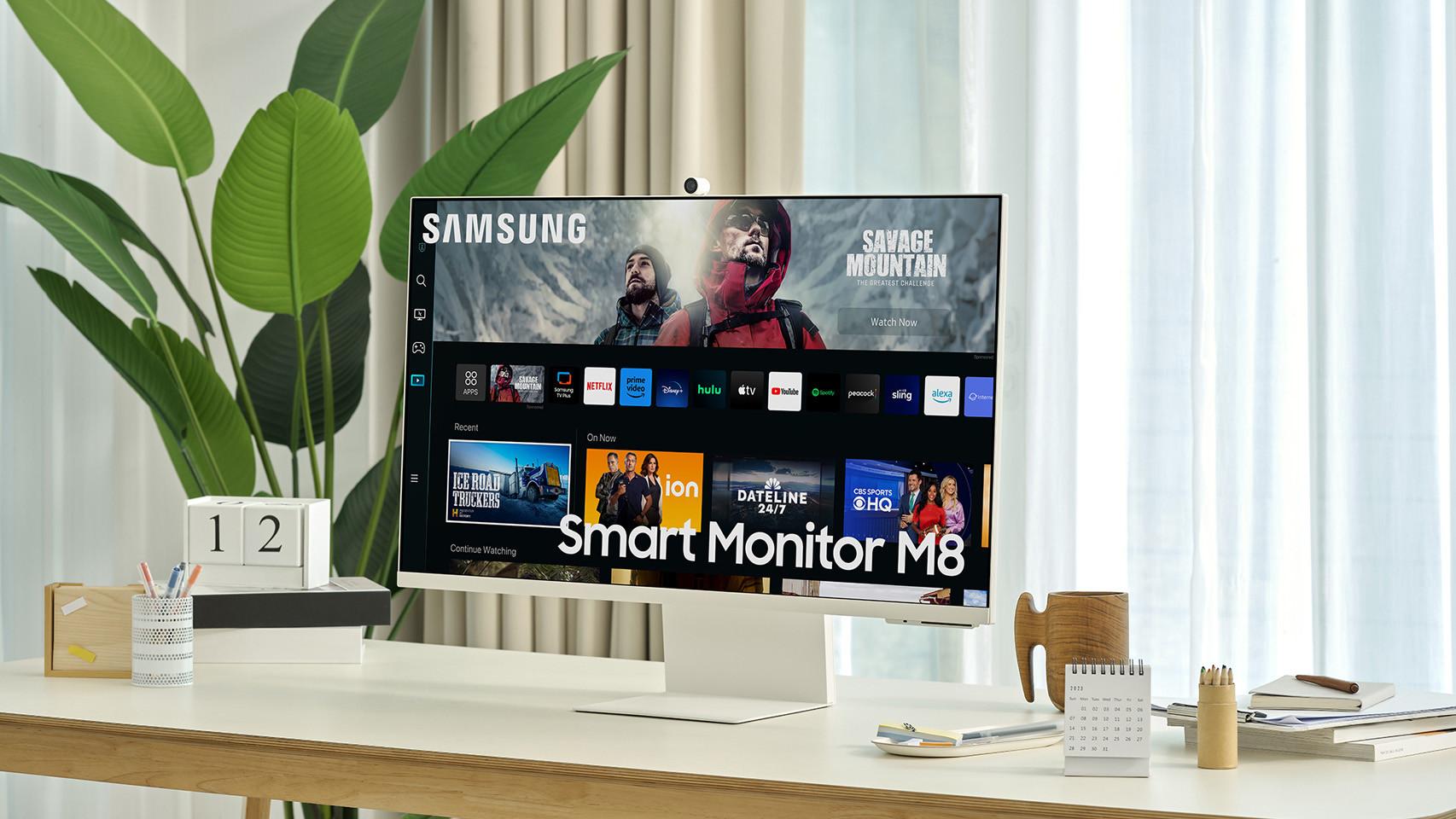 Finally, while the M5 stays with 2 HDMI 1.4 and two USB-A ports, the M7 and M8 models get an HDMI 2.0 port and an additional 65W USB-C port that is extremely useful for connecting accessories or for charging devices additional devices that connect to these monitors.
You may also like…
Follow the topics that interest you