Its directors said so when evaluating the edition that ended on Sunday morning, in Sónar there is room for everything from brutalism to intimacy, including experimentation. And there was a bit of all this on that last day, which if by day he cradled the fascinating concert by Carles Viarnès and Alba Corral squeezing some organs (instruments, at Sónar it is worth specifying), at night he opted for a pharaonic show to fill the central hangar with Eric Prydz before techno reigned supreme with Richie Hawtin and Ángel Molina. By means of urban sounds with Bad Gyal and La Zowi together with the hip-hop of the charismatic and vitalist Little Simz, all seasoned by an audience in a state of amplified amusement, educated, with an apology following each collision, and with that tender sensation of looking like creatures at their mercy in a colossal nursery. It's Sonar.
The festival, like many other initiatives, has to place its message according to its strong points, and one of Sónar's is credibility. For this reason, and because technology has something that generates smallness in laymen, the majority of mortals, there are times when words covered with concepts in development work like magic tricks: they fool. This was not the case with the project by Carles Viarnès, a contemporary musician with classical training, who knew how to extract from a hyperorgan (organ midified; that is, modified by midi) a little less than heavenly performance. Organs, analog instruments, can interact with electronic instruments to enhance their qualities, and that is what Viarnès did. But doing it for the sake of doing it has no artistic value in itself if you don't broaden your gaze to see what is achieved, and what the musician achieved was splendid. His concert, with very plastic and detailed visuals by Alba G. Corral, was balsamic, with one foot in the Gregorian and the other in electronics, gliding, beautiful, barely guided by the rhythm and maintaining that sound of the organ, there were two small ones, given by the air moving through its tubes. Discourse and result working together, beauty extracted from two apparently antithetical worlds that twin technology. Both the record and the show are responsible for Hyper_O.
This balance between technologically dazzling promise and result did not quite work with the main course of the night, the Eric Prydz show, of a gigantism that was itself the heart of the proposal. Using 3D figures that seemed to come out of a tennis court-sized screen, with an astonishingly clear image, astronauts passed through the hangar, robots waking up from hyperspace hibernation, a huge hand that seemed to want to remove the hat from those who wore it, lasers to illuminate deep space, rainy landscapes and a whale, which is not in vain a huge mammal. The best start, with a robotic arm that mobile in hand imitated what the crowd was doing, recording with their mobile. Even with everything in a city that has seen dazzling productions, many of them at the same festival, an accumulation of obvious images shown in 3D, yes, without glasses, it tasted like little. Many means for an imaginary without excessive imagination, impressive yes, but it does not need many glances to be seen.
From here on, the night settled in the dance as a construction of community and towards urban sounds. First with Bad Gyal, an artist who knows how to let herself be looked at and show off everything and not sweat stage charisma and dance with ease. But it has a work ethic, self-confidence and songs and lyrics that say loud and clear that each person has to decide for themselves, and that will and will is the last thing that can be taken from us as rails that lead each person towards the achievement of their own happiness, which must always be written with their own script. She reviewed her rack of hits, more glittering than her micro, which seemed sponsored by Swarovski and closed with crazy and Fever after a triumphant songbook that saturated its stage, one of the two outdoors at Sónar Noche. For her part, another urban queen, La Zowi, presented at SónarCar, inside the hangar that houses the bumper cars that unite the festival with the festive tradition in one of her best ideas, her self-proclamation as The Queen of the South in its recent long run. Known topics like Bitch Feka either Bitch along with new ones like Chill, Chipper either I make him crazy they put the fans of the public in the air, leaving behind the sensation that Zowi has something of a neotonadillera that begins with her long, straight, jet-black hair and ends with that overwhelming confidence that Rocío Jurado wore.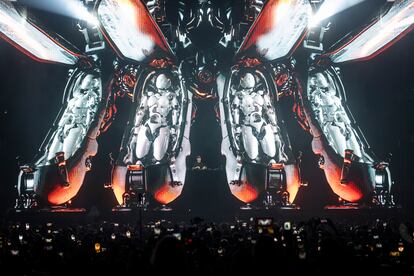 What affects the most is what happens closer. To not miss anything, subscribe.
subscribe
And before Ángel Molina signed the end of the night by day, Little Simz put on a superb concert. The Englishwoman of African descent, one of the most personal and demanding voices in British hip-hop, showed ease, self-confidence, not emphasized but natural, great songs like Womanwith which he closed, silhouettewith which he had opened and others like Not Mercy or Hearth Of Fire. Part of the repertoire was performed only with bases and part with the help of two musicians (they played guitar, bass and keyboard), always with a convinced diction, physical dynamism that filled the stage and that mix between hip-hop and melody that characterizes her. And who was going to say it, more English colony was missing, the one that boosted her concert at Primavera Sound last year, empathizing especially with women, who idolize her. And so the 30-year-old Sónar made history, with its phosphorescent backpacks, its paperless wardrobe for the clientele that is linked to their garment with a single bracelet, the one who remains faithful to the horizontal screens and the one who, after three decades, has ceased to be technically young. Let's wait to see what maturity holds for her.
You can follow EL PAÍS Catalunya at Facebook and Twitteror sign up here to receive our weekly newsletter