Technology.- During the PlayStation Showcase 2023,sony officially introduced the PlayStation Project Q, a new portable. As a recent leak had anticipated, the hardware will focus entirely on cloud gaming.
With this new console, gamers will have the opportunity to stream their PS5 games to Project Q. So don't expect portable hardware to integrate next-gen components, as title processing will be the responsibility of the PlayStation. 5.
Of course, the PlayStation Project Q will rely on Remote Play, the function of PlayStation consoles to stream their games to other devices such as smartphones, tablets and computers. All this from the home WiFi network.
functions
In essence, PlayStation Project Q will serve the same purpose: that you can enjoy your PS5 games beyond the main room. However, to set itself apart from the aforementioned devices, Sony has designed its product with a sole focus on the gaming experience.
PlayStation Project Q has controls clearly inspired by the DualSense. It is as if they had cut the PS5 controller into two parts to place each one at the ends of the screen. The latter, by the way, measures 8 inches and boasts a Full HD (1080p) resolution. Yes, it's bigger than the panel on the Nintendo Switch, Steam Deck, or Asus ROG Ally.
"We will launch a device that allows you to stream any game from your PS5 console using Remote Play over WiFi. Known internally as Project Q, it has an 8-inch HD screen and all the buttons and features of the DualSense wireless controller," said Jim Ryan, director of Sony Interactive Entertainment.
The manager also pointed out that his goal is to launch the PlayStation Project Q this year. At the moment, it does not have a date of launch, but it should not surprise us if it sees the light in the last quarter; just before the Christmas season begins.
We don't know its price either. This will be a very important factor in knowing if you really have a chance of success. Portable cloud gaming consoles are certainly cheaper than offerings like the Nintendo Switch or Steam Deck. However, PlayStation Project Q does not look like a cheap product. You just have to see that screen.
PlayStation now has its own earbuds
The PlayStation Project Q wasn't the only hardware featured at the PlayStation Showcase. Those in Japan also revealed a compact wireless earphone.
Sony, of course, already has extensive experience in this sector with products like the WF-1000XM4, WF-L900 and Link Buds S, to name just a few models. Now it is the gaming division that applies that knowledge with the earbuds officers of PlayStation.
For now we only know that it will have support for lossless audio and that they will be compatible with the PS5 and computers. Sony will talk about its price and release date later.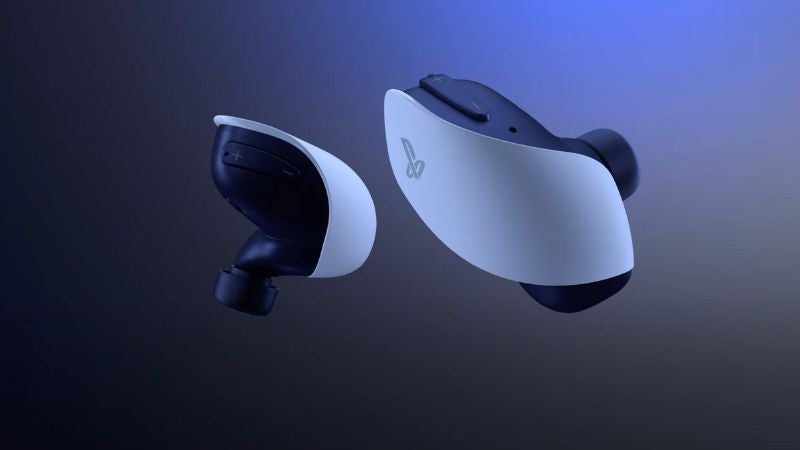 It may interest you: Reveal details of the next Playstation 5 Pro