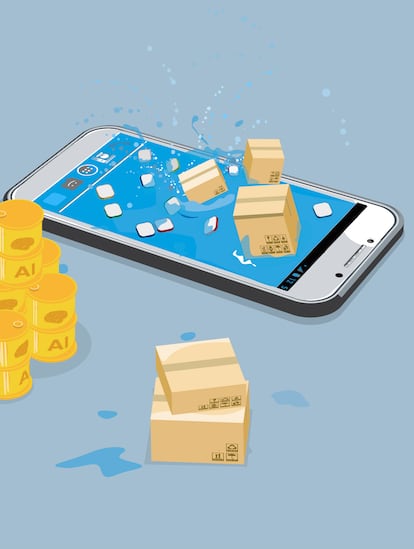 In March I attended a seminar with economists and trade policy experts on trade and artificial intelligence (AI). To announce it, one of its organizers posted on LinkedIn the answer that ChatGPT had provided to the following question: could you give me five reasons why trade policy specialists should be interested in artificial intelligence?
The answer, long and correct, can be sought by the reader. In summary, I will say that AI allows business processes to be automated, contributes to optimizing data analysis and decision-making, is used to create trade policy simulations and to enhance the efficiency and productivity of exporting firms. Having said this, it would be unthinkable that companies do not want to use AI to internationalize their productive activity. An artificial intelligence algorithm that updates in real time and feeds on data seems ideal for the world of international trade, but it poses significant challenges. In this sense, it is worth asking ourselves what will be the global consequences in terms of well-being of incorporating AI into international trade. The answer is complex and for this, theoretical analyzes are necessary that, once raised, can be validated with data from the real world.
Returning to the seminary The first speaker was a renowned Canadian economist expert in international trade. Professor Daniel Trefler presented his work on AI, commerce and creative destruction based on the global use of mobile applications (apps). Combining international download data from apps over time using data from AI patents owned by the parent companies of each app, found that AI deployment increases downloads six-fold, doubles the number of app varieties exported, and further increases creative destruction —entry and departure from apps—. Likewise, he estimated that by 2020 the net effect on well-being represented an improvement of between 2% and 10%, depending on the degree of substitution between apps. This result refers to trade in services; In the case of merchandise trade, AI will affect trade costs in very complex ways. Academic work in this area, led by Stanford's Erik Brynjolfsson, indicates that eBay's introduction of an AI-powered machine translation system increased its exports by 10%.
The second speaker, Javier López-González, from the OECD, spoke from the perspective of trade policy actors and focused on exploring the interconnections between AI-based technologies and international trade. He highlighted the considerations to be taken into account by economic policy actors if they want to successfully exploit all the possibilities offered by AI. The latter has the potential to change different aspects of international trade and business models, while trade can be an important mechanism through which countries access the inputs needed to build AI systems. Furthermore, it is through trade that AI solutions can be deployed globally. To do this, the OECD has created an observatory to measure progress in AI and advocates a call to reduce tariffs on AI-related goods, especially in developing countries, which is where protection is highest. It also advocates facilitating access to such goods through trade policies.
Among the challenges for the future, legal privacy issues stand out, which can create additional costs and competition between States, which can generate a regulatory race to the bottom. In order for AI-based products in one country not to violate the standards of others, it will be necessary for international regulatory harmonization to be based on principles of transparency, democracy and responsibility. Both the WTO and trade agreements must play their part in fostering cooperation on minimum privacy standards. In short, in less than a generation, AI could transform international trade in goods and services. A balance between privacy regulation and innovation will be essential for the reconfiguration of trade patterns to be consistent with the sustainable development goals and to take place within a framework of respect for human rights and non-discrimination. Therefore, understanding how cross-border regulatory and industry policies will affect the comparative advantage of AI-intensive goods is essential.
Follow all the information of Economy and Business in Facebook and Twitteror in our weekly newsletter
Five Days agenda
The most important economic appointments of the day, with the keys and the context to understand their scope.
RECEIVE IT IN YOUR MAIL
Subscribe to continue reading
Read without limits