Light gaming mice are the latest trend in terms of competitive level and for this i-rocks has released the M36 Pure that promises to be one of the best in its class.
The lighter the gaming mouse, the better or at least it is what many say, since when moving quickly it is not that force that makes us stop. Lightness is not everything but also ergonomics.
Throughout the following paragraphs I am going to tell you about my experience with the light gaming mouse (it weighs 69 g) and although it is wired, it promises zero friction or resistance when using it. Before we continue, let's know the product specifications:
Interface: USB
Backlight: RGB LED
Button: 7 keys – (right and left click: LK optical microswitches)
Resolution: 100-16000 DPI
Report rate: 125/250/500/1000 Hz
Power Consumption: Max. 100mA
Dimensions: 119 (length) x 64.0 (width) x 41.5 (height) mm
Wire length: 200cm
Approximate weight. 92 g (with cable) and approx. 69g (without cable)
The most interesting thing about this gaming mouse in general is the braided cable, it has an incredible quality and this helps to make the friction when playing games practically zero. Having flexibility when using a wired mouse is quite vital, as having a thick cable controlling our precision is extremely uncomfortable, but in this case the wiring is of high quality.
I could say that it practically feels like having a wireless mouse, the difference is that for aesthetic reasons we keep seeing that cable on our table and this can be a bit uncomfortable. Imagine having a super light mouse with a thick cable, wherever you place the mouse it will be affected by the resistance of the cable and practically make us lose aim.
This mouse also packs in the PixArt PMW3389 sensor, a more advanced version of the famous PMW3370 but with a top speed of 16,000 DPI. This sensor is classified as one of the most important for first-class games due to its high precision. If we talk about precision, we have the wheel, which in this case has some slight marks to help us feel the precision as we need it.
This mouse comes with a series of profiles that helps maintain settings as we move from one PC to another. This feature is well received since this way we avoid changing settings every time we are in front of a new PC. Based on clickability, we have an endurance of up to 70 million clicks on these optical switches.
One of the things that I don't like at all are the rollers, since they are the standard that any office mouse can have. It is useless to have such an important sensor if the wheels do not meet at least the minimum standard to maintain precision. These black rollers do not offer the same speed or even with the same sensitivity. By setting the DPI to 2,400 (my standard for gaming) I could feel it going a bit faster and lag overall.
Putting high DPI speeds will ruin our gameplay, which boils down to the fact that having so many DPIs does not add any value to the mouse in general. It can be quite light as well but if it does not have the other features it can be really uncomfortable to use.
Ergonomics and grip are quite important here. Unfortunately the position of the thumb buttons is a bit high, which means that you need to lift it a lot to press it. In my case I use these buttons as a direct access to any confrontation, for example to launch a grenade.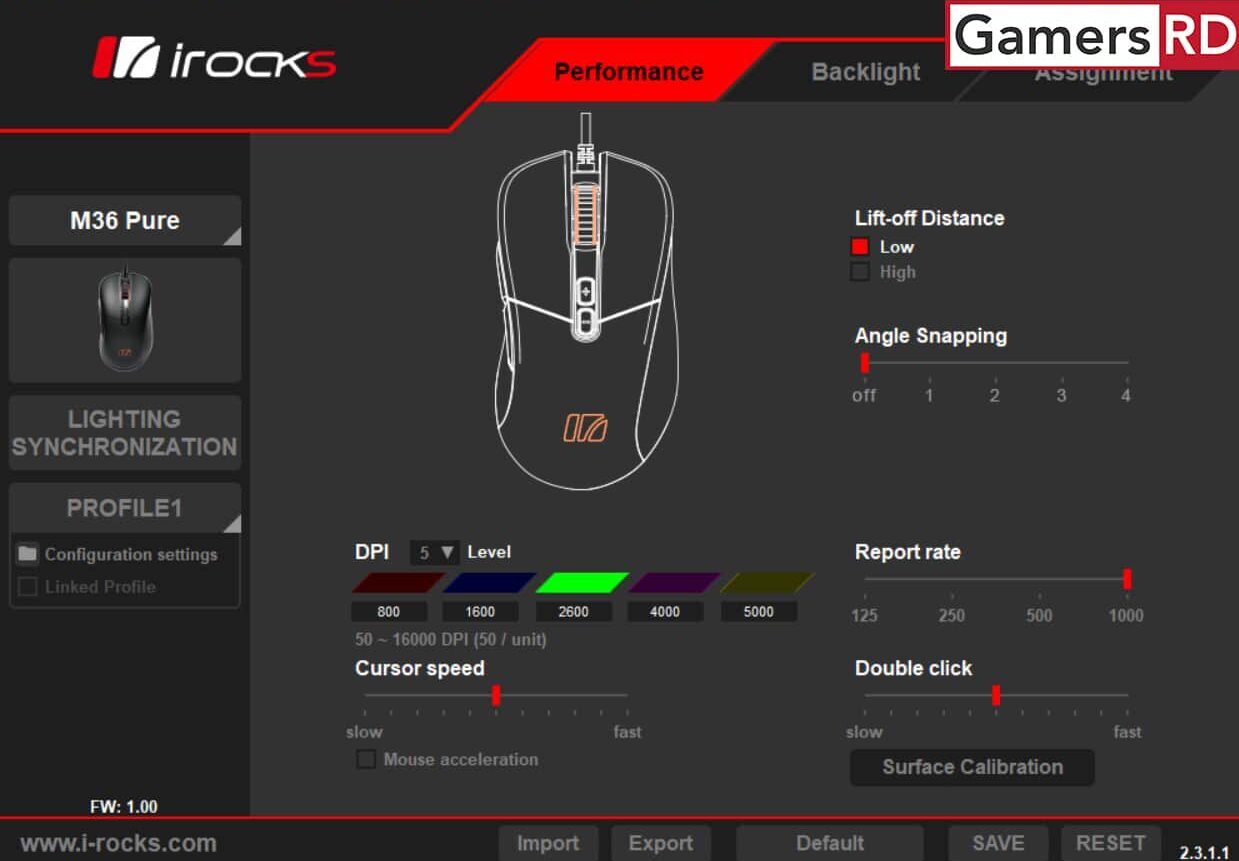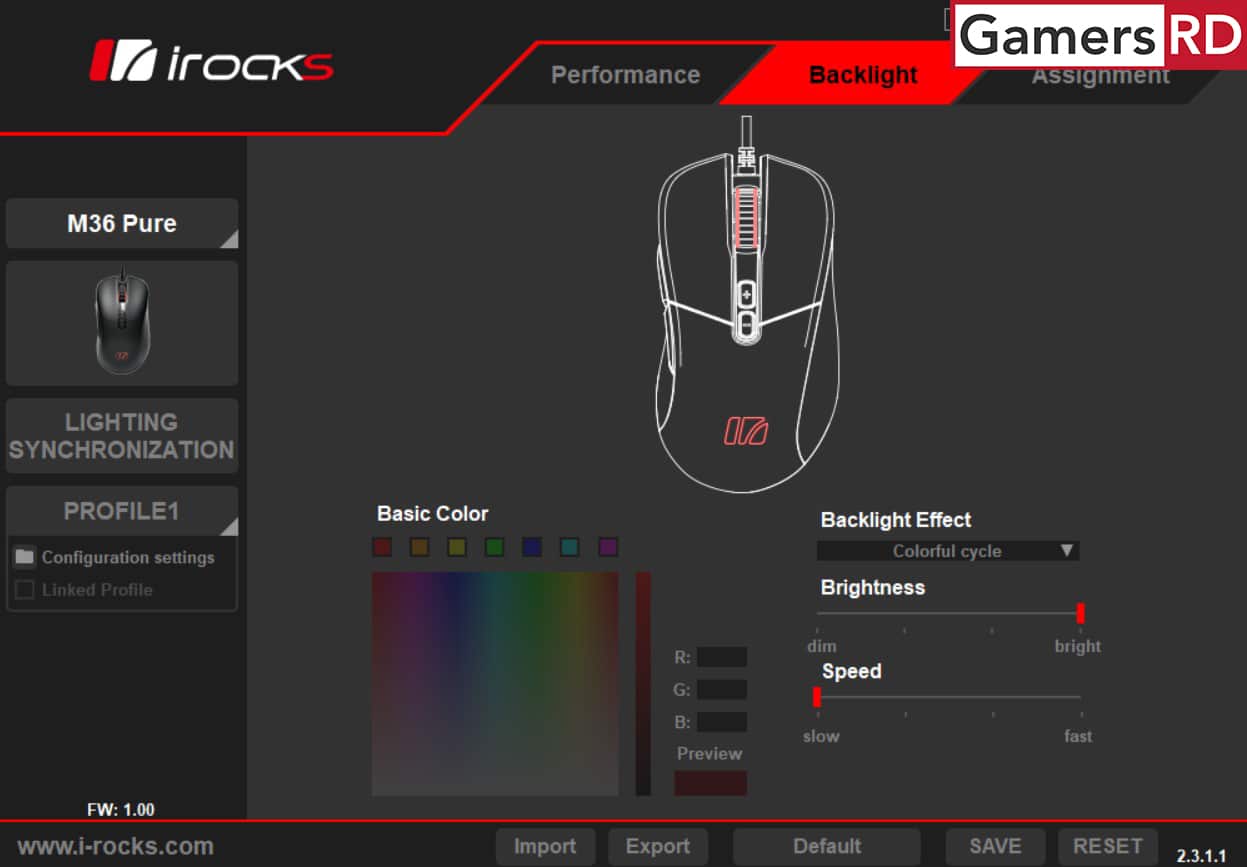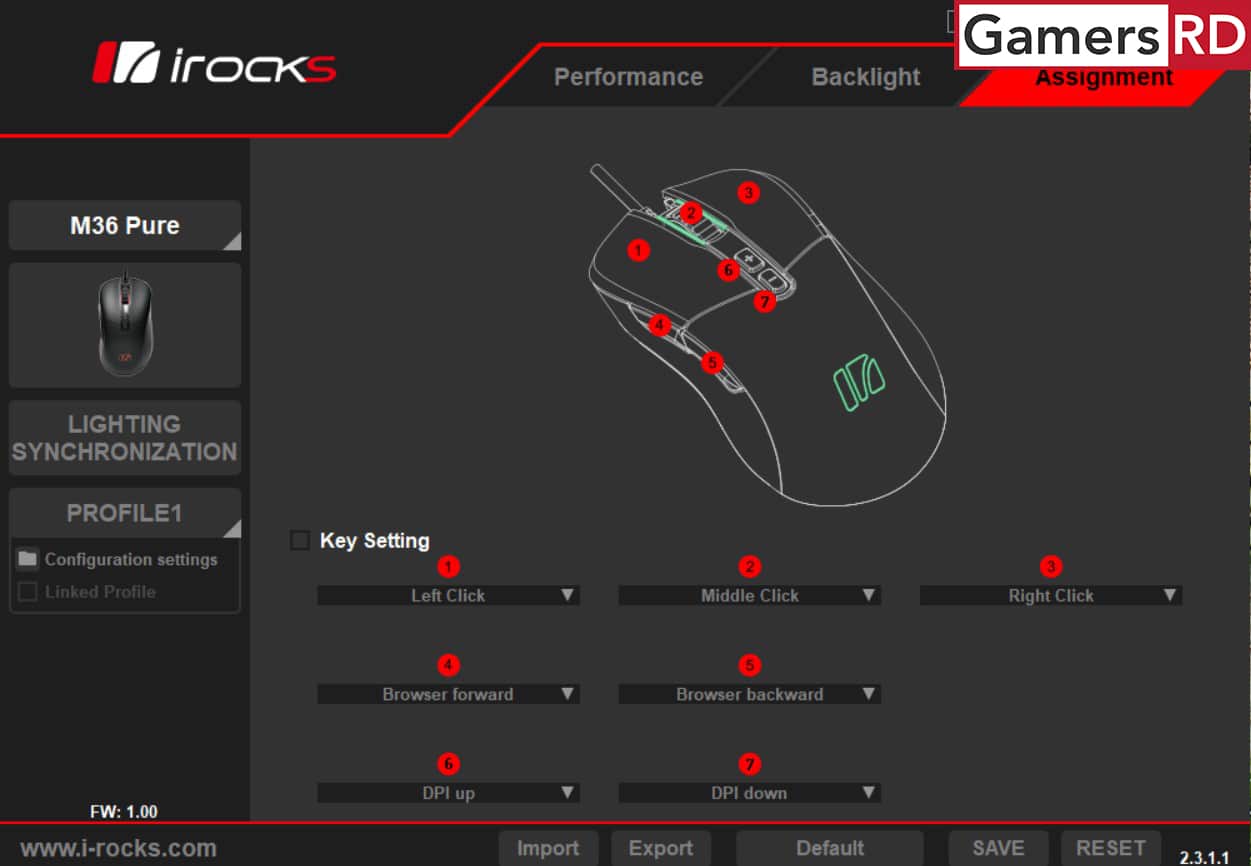 In the program, as you can see, we can manage different types of profiles that are illuminated by the RGB color. The speed of double-clicking and one that has always caught my attention, which is the response time. Obviously all of that is set to the highest and the experience, at least in that sense, was quite pleasant.
We have a fairly light RGB, nothing ostentatious and of course the possibility of mapping/customizing all its buttons. We have at the top the buttons to increase or decrease (it comes by default) the speed of the DPI and one in the central wheel. All this can be customized to our liking. In general the software is quite simple and useful within the standard.
In conclusion
The M36 Pure is a lightweight mouse that falls short of the average gaming mouse of this type. On the one hand, it has the characteristics that any competitive mouse could have, but on the other hand, it really needs good quality rollers to be able to appreciate the sensor and all those DPI that it offers. The most important thing when gaming is that precision in every pixel and this mouse has one of the most modern sensors from Pixart. In terms of grip and ergonomics, it feels quite smooth, so you can't count on it much in that regard. This part can be corrected with a little extra investment to add something so that it has more grip, which at a certain point I see as unnecessary since that is something extra.
The software is quite useful but when it came to downloading the one for the mouse it was somewhat confusing since there is one for each specific model. Using it is wonderful and it is an added value to the product. The cable (which is the most special thing about this product for me) is without a doubt the best braided cable I have been able to test since it offers zero friction / tension when playing. It is strange to see a product of this type having some quality things and others not. This review was made with a copy provided by i-rocks.