Rosa Chacel, Rafael Alberti, Carmen Martín Gaite, Gonzalo Torrente Ballester observe us from the easel. They are the cartoons that Fernando Vicente (Madrid, 59 years old) is preparing for a literary deck. His study is full of books, photos, filing cabinets and brushes. He always works standing up, whether as an illustrator or as a painter. Self-taught, he has been in the profession for four decades, from his beginnings in the Movida, closely linked to the world of literature, and also to this newspaper. The large format and beautifully edited book The art of Fernando Vicente (Editorial Norma), one of those that look good on the living room table, reviews that trajectory.
Ask. Coming from the newsroom, this study is a haven of peace.
Answer. This is quite a lonely job, I have been working alone for many years. When it seems that orders are not coming, you get a tremble, that thing about freelancing. And that I've been doing this for 40 years. But in the end things are coming out and you are linking.
Q. How many hours do you spend here?
R. Well, many. Although now I try to make them less. I worked in advertising at the end of the eighties, as a creative director, and I got used to signing. I live opposite and for a long time I used to come at nine in the morning and leave at nine at night.
Q. That is almost Stakhanovism.
R. But it is that I like my work, so I do not come here with displeasure. Unless I have one of those fateful assignments… Usually I come here to have a good time.
Q. Time is much longer when you work on your own.
R. I left advertising precisely, when it was a very good time and I was in a large multinational, because of the meetings. They seemed like a waste of time. The best campaigns used to end up in the trash: there was always someone present who had an opinion against it. I ended up leaving it. And I'm very glad.
Q. His book records his artistic evolution. How has it been?
R. I start in the eighties doing comics in magazines Madrid and The Moon of Madrid. Also posters, posters, at that time I have a very recognizable line. I didn't go to the Faculty of Fine Arts, I learned on my own, working and going to Rock Ola at night. Trying to be up to date, to be modern.
Q. They called him "the guy with the shoulder pads."
R. Some people think that this is because the shoulder pads appeared in my drawings. But he was wearing those shoulder pads!
Q. How do you now view such a tricky matter?
R. They were horrible. I see myself in photos and I say to myself: how is it possible that I have gone like this? But they were the fashion of the time, many of us wore them.
Q. I am forced to ask him about the Movida. Paloma Chamorro even interviewed him on the television program The Golden Age.
R. The vision that exists now is a bit exaggerated. It was a time of very intense youth, but neither did I have the feeling that a phenomenon was taking place that would go down in history. Now youth also does things, I suppose the difference is that we came from a very long and very gray stage.
Q. I mean, it started with the comics.
R. Yes, and there was a lot at that time: The Viper, Cairo, cimoc, 1984, Madrid… The kiosks were full of comics. But there was a crisis that took a large part ahead. So I recycle in advertising. There is a stylistic break there, for about ten years, and then I resume, I return to illustration, for example, working for EL PAÍS.
Q. What was he doing?
R. I begin by illustrating the opinion columns of Elena Ochoa and Almudena Grandes on Sundays. And then in Babelia. Then there was no internet and they sent me the texts by fax. It is already the style that is recognized for me now and that no longer tries to be especially modern. In recent years I've been doing a lot of illustrated books, which are no longer just for children, but for adults, like the ones I do for publishers like Nórdica or Reino de Cordelia. A few years ago, publishers asked for photos, or a lot of design. Now they are illustrations: the illustrators have filled the bookstores with color.
Q. Where does your strong connection with literature come from?
R. I guess he comes from work for babelia, where I have made more than 90 covers. In addition to the caricatures of writers… Publishers see that, they order book covers from you, or work for fairs.
Q. To what do you attribute the current rise of the illustration?
R. I frequently visit illustration schools and there are hundreds of kids, very young. Social networks have a lot to do with this, because a lot of illustration is spread out there, very good people who reach the entire planet. I sell reproductions to the whole world through networks.
Q. How did this boom start?
R. I always recognize the value of the illustrator Jordi Labanda as a pioneer, who has generated, for many years, a true fan phenomenon. The girls carried the folder lined with their illustrations. When I said that he was an illustrator, some young girl asked me if I knew Jordi Labanda, with true love. That makes large companies start looking for substitutes for Labanda. But it is that before it was impossible to announce something with an illustration and not with a photo.
Q. What good is an illustrator if we have artificial intelligence?
R. I'm freaking out a bit, honestly. I'm not worried, because I have work. But the possibilities you have are amazing. My wife did the test in one of those programs, Midjourney, she gave it parameters similar to some paintings that I have of geishas (and that I have sold very well in one of those fairs that surround Arco), and I was amazed with the result . I suppose we will also end up reading books written with AI. I don't know how you guys are handling it.
Q. I terrified.
R. And it is that we do not know where it is going to arrive, because it is only beginning… It always gives the impression that there is someone behind it, but there is no one behind it. Of course, sin a little tacky.
Q. Perhaps in the future the illustrator will simply be the person giving the instructions. Like those artists, like Damien Hirst or Jeff Koons, who don't do the works, but commission their team to do them.
R. Artificial intelligence evens it all out a bit, I'll tell you. And then there is the painting, which I believe that it will never be able to replace. At least in principle, because you never know. The sculpture yes, sculpture that is printed in 3D is already being made.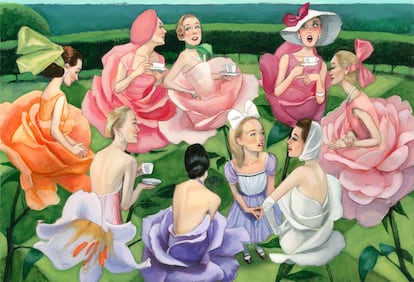 Q. Why do you like to illustrate?
R. It is a childhood passion. In my family there is something genetic, like who has an ear. I know a family in which everyone plays and sings. In my family we all draw more or less well. My sisters all draw. My mother has recently started and she is very good at it, like she had it inside her. My grandfather did Fine Arts and ended up as a cabinetmaker in the Civil War, making airplane propellers. He always wanted to be a painter. As for illustrating, he took my life.
Q. But why do you like to paint at the moment you paint?
R. I enjoy very much. It is a job in which I have to do everything myself, and also my work is very figurative, which I find very entertaining. I have a filing cabinet full of clippings, with photos organized by categories: cars, dogs… I'm from a pre-internet era, and you had to work like that. They had to send me the photos from the newspaper for the portraits. I was not going to invent Rosa Chacel!
Q. Technology has changed everything.
R. My work has changed a lot, for the better. I have lost many drawings taking them from one place to another: now I scan and send them, they don't even leave the studio.
Q. When a novel is adapted to the cinema, the author usually has a complaint. I don't know if it also happens when you illustrate it.
R. They are generally dead authors. But I have some with Arturo Pérez-Reverte, with Marta Sanz, with Alejandro Palomas or Fernando Royuela. I have never had any problems. I always warn that my work is independent, that they have to let me do it. And if it's not going to be like that, I'd rather not. I've been doing this for a long time: if they ask me to do it, they're supposed to trust my criteria.
All the culture that goes with you awaits you here.
subscribe
babelia
The literary novelties analyzed by the best critics in our weekly bulletin
RECEIVE IT
Subscribe to continue reading
Read without limits