As the agronomist and advisor Federico Gadea will say at some point in the interview, it was rice that "opened the agricultural leg" in a region that previously knew how to be cattle-raising, the south of Corrientes and the north of Entre Ríos. That is to say that hand in hand with rice, producers were incorporating new irrigation technologies and after that came new crops such as soybeans and corn.
Gadea – who knew how to work actively in favor of Corrientes rice planters – believes that this diversification towards other crops is due in part to Argentine macro policies, which mean that rice is no longer competitive. "It's not that rice is going to disappear," says Gadea. But as it recedes, irrigation capacity remains available in the dams.
"Hand in hand with this diversification is that we brought this technology by sleeves by furrow," said the agronomist, introducing us to the subject of this note.
-Let's stop at this technology, because it seems very simple, but it is not.
-Many years ago we tried to impose it, but it had little acceptance. It was not done before because there is a part of the technology that is very necessary, which has to do with everything that is precision agriculture. Basically everything that works through the RTK, which is a technology that allows, in real time, a topographical survey and from there, with modern software, lots are designed so that the irrigation is by sleeves or by mantle. Behind that comes what would be heavy technology: magicians, furrowers.
-The "sleeve" is a large hose through which the water that you take to the lots goes, which are not small like a vineyard, but large lots where you are going to make corn or soybeans.
-Of course, they are extensive lots, but with gravitational irrigation. Now why manga and why does it seem so simple? There are many meters of pipes that are used for this type of crop and if they are not light and low-cost pipes it would be unfeasible.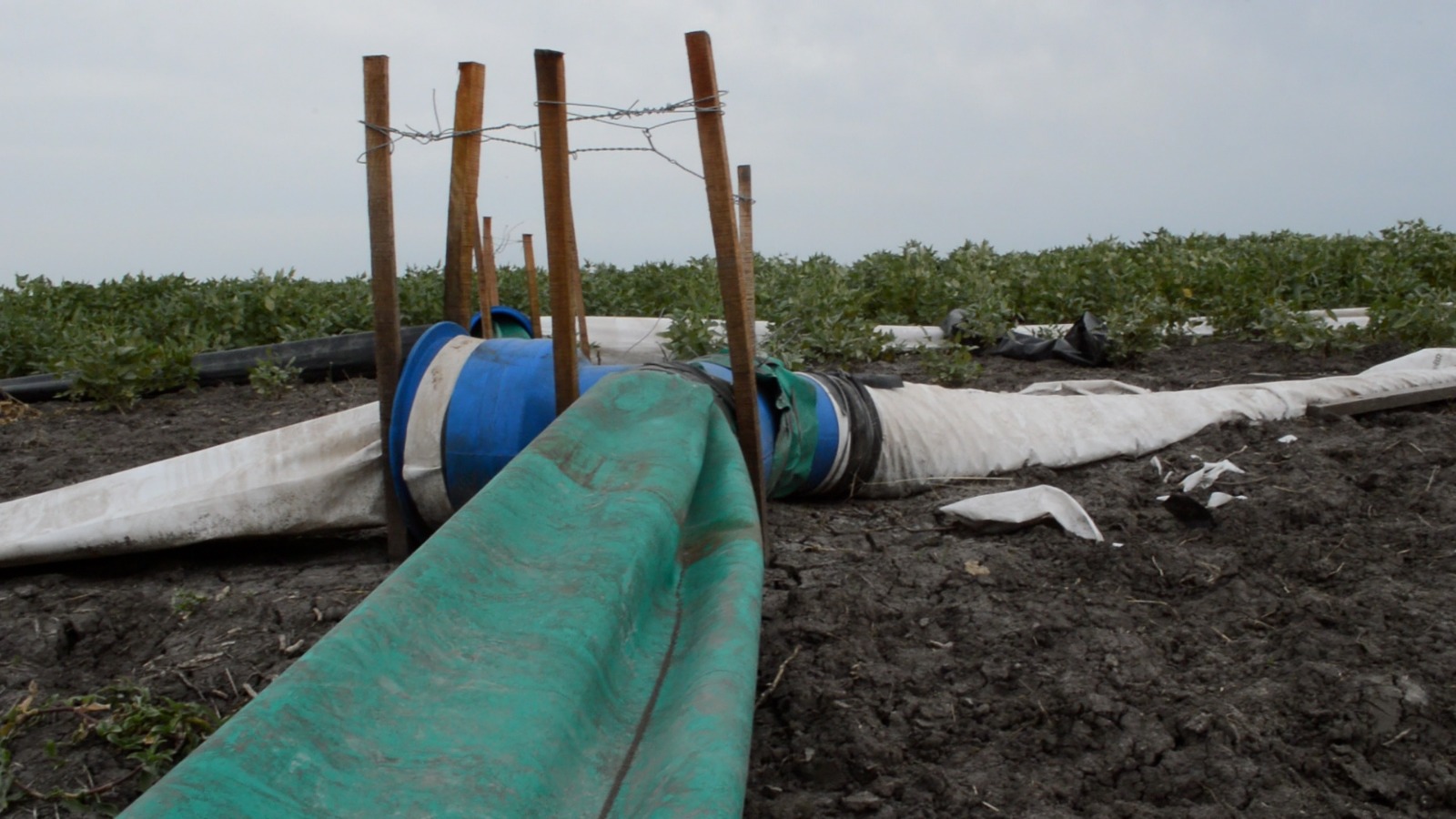 -And why is this technology used in this area and not the pivots thatand we see in other places? Are there any limitations?
-More than a limitation, there is an interesting availability of soil type, of topography to make irrigation much more economical than pivot irrigation. And more extensive. With our system we can cover the area that is necessary. They are not competitive, they are complementary.
-What lot sizes can we be thinking of?
-Normally here they are working on 90, 100 (hectares), but a person who wants to could do it in a field of 1,000, there is no impediment to doing so.
Watch the full interview here:
-The technology is. You were in charge of ordering it and lowering it to territory, but it is not a new technology. There are experiences in other countries.
-The birth of this technology, at least from where we bring it, is Arkansas, United States, where there are 500 thousand hectares under this system. Over there it has a seasoning that although it has not yet arrived here, we do have it, which is to modify the soil profile very superficially so that gravitational irrigation is perfect.
-In Brazil, Uruguay, countries that are also rice producers, is this taking off?
-Yeah. In fact, we are in combination above all with Brazil, where we are passing these experiences from one place to the other and it is growing a lot in that country. Faster than here, basically for macroeconomic reasons. But in fact what we were seeing today, the furrowers, all of that, are developed in Brazil, with our exchange. And with that, the technological package for our area of ​​South America is being assembled.
A new irrigation technology allows us to dream of expanding extensive agriculture to marginal areas of Entre Ríos and Corrientes