The new one electric battery EcoFlow Delta 2 Max It offers us power for all types of high-consumption devices, from laptops or smart TVs to household appliances. It provides power and a long useful life, together with the cleanliness and silence that distinguishes batteries from traditional electric generators.
The EcoFlow Delta 2 Max houses 2,078 Wh capacitywhich can be increased up to 6,144 Wh adding two additional batteries. By incorporating solar panels, it helps us not worry about the price of electricity and possible supply interruptions.
It is suitable for the home, but its content weight of 23 kg also allows you to take it on vacationeg in a caravan or a campsite. The outlets include conventional AC plugs, USB A and USB C ports, being able to power up to 13 devices at the same time.
The AC (alternating current) output of the EcoFlow Delta 2 Max reaches 2,400 W of power, so you can with devices such as microwaves, hair dryers or air conditioners. We even have a mode at 3,100 Wfor household appliances with higher power.
EcoFlow Delta 2 Max is based on LFP (lithium iron phosphate) technology, which offers a useful life 6 times longer than conventional ones. capacity is reduced to 80% after 3,000 charging cyclesallowing up to 10 years of life on a daily charge.
EcoFlow Delta 2 Max, specifications
We are before a premium electric battery, something that is reflected in its technical sheet. Let's see all the details:
EcoFlow Delta 2 Max
Ability
2,078 Wh
(6,144 Wh with 2 additional batteries)
battery technology
LFP (lithium iron phosphate)
output power
2,400W
3,100 W (power mode)
13 output connectors
input power
2,300 alternating current
1,000W solar panels
Durability
80% after 3,000 cycles
The EcoFlow Delta 2 Max can be charge with alternating current at 2,300 W (for example, in a socket) and with solar power at up to 1,000 W through additional panels. It has a fast charge that reaches the 80% in just 53 min through alternating current, and that drops to 43 min in dual mode together with solar panels.
100% is reached in 81 min using alternating current or in 2.3 hours with panels, so fast charging is one of the highlights. In addition, it will be compatible with the PowerStream solar panels for balconies that EcoFlow will launch shortly.
The EcoFlow Delta 2 Max is silentFor example, working at 500 W it only emits 30 dB of sound at a distance of half a meter.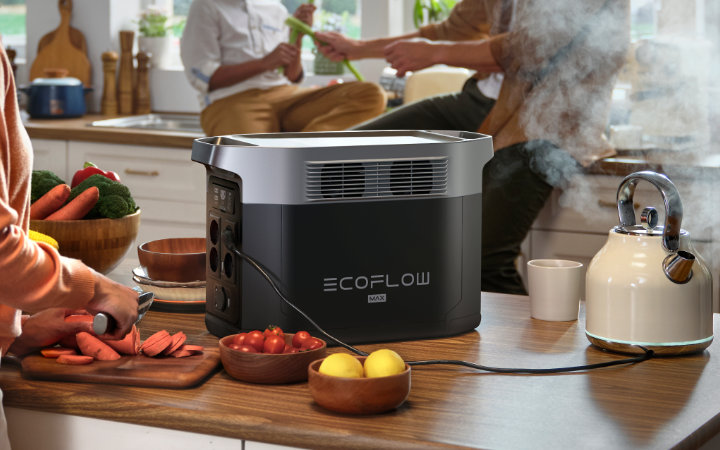 EcoFlow Delta 2 Max, price and availability
The EcoFlow Delta 2 Max goes on sale on May 31, 2023, with a price of 2,099 euros, while the additional expansion battery costs 1,499 euros. A pack of the EcoFlow Delta 2 Max will be offered together with a 400 W portable solar panel that will cost 2,899 euros (a saving of 149 euros compared to buying them separately).
In addition, the battery has 5 year warrantysomething that is always important when we are going to make an investment of this type.
The new one EcoFlow Delta 2 Max offers options to stop depending on the electrical grid, whether at home or away. Although some online electricity rates have reduced bills, with batteries we don't have to worry about supply interruptions and we get more freedom.
What is the QR that appears on the electricity bill?