geekzillos, Snapchat never tires of innovating and this time they presented their first Band Tees collection, a new way for fans to support their favorite artists. In addition, they will be able to customize their avatar with a support shirt.
The visual messaging app has partnered with the production company Republic Records to launch 6 new digital t-shirts from some of today's most popular artists for this first official merchandising collection. There is something for everyone! The Snapchat community will be able to find t-shirts of pop icons such as Hermanos Jonas either kim petrasrockers who adore Greta Van Fleetrap lovers with Lil Wayneor hip hop like metro boomin and nicki minaj.
With the release of the new Band Tees collection for Bitmoji, the further expand the music experience and reach the whole world in a more fun and interactive way for users. This unlocks the opportunity for both artists and record labels to reach a new audience through Snapchat.
Through Bitmoji, Snapchatters can communicate in a more personalized and expressive way with something they love like music that resonates with them and makes them feel. And last but not least, they join a community of more than 1.75 billion people who express themselves through Bitmoji digital avatars.
Snapchat allows you to create your own digital avatar with 3D graphics and augmented reality. The app offers a lot of options to make it true to your personality and image. It is very easy to do it from the cell phone and very fun!
We recommend you: My AI
This feature is also perfect for creating a "virtual me" with gestures to express your emotions. They can even be shared with your friends! For example, you can create custom stickers with your friends' avatars to use in their chats. For example, a postcard from Jonas Brothers fans or rockers who don't stop listening to Greta Van Fleet.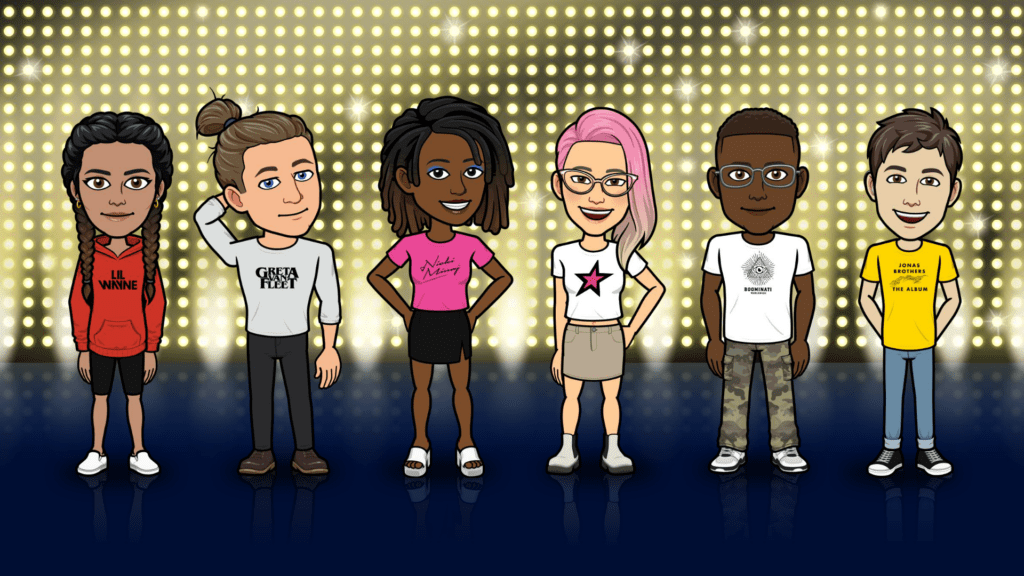 The app has more than 750 million monthly active users around the world, including 15.5 million in Mexico. Snapchat sounds, AR Lens technology, and partnership with LiveNation, have proven to be a powerful distribution tool for artists and creators to expand their creative canvas and share their music globally.
For Snapchatters, adding an Augmented Reality sound or lens provides hyper-expressive and immersive music experiences that enable song discovery and new ways to show support for the artists they love.
How to put together your Bitmoji on Snapchat?
Open the app and select the "Profile" icon in the upper left corner or create it if your account is new.
Tap on your Bitmoji and then tap "Change Outfit" to start customizing.
Head over to the Band Tees collection, available under the Outfits, Tops, and Outerwear tabs in the Bitmoji Fashion section of the avatar creator.
Ready! Select the style that best suits your personality or mood at the moment.
Don't waste more time and enjoy the first Snapchat Band Tees collection and show your love for your favorite artist.