Data analytics to personalize training; metaverse to immerse it in a real (albeit virtual) environment, and artificial intelligence (AI), led by ChatGPT, to assist teachers and students. They are, in short, the main tools that large business schools are adopting to, firstly, improve the teaching-learning process itself and, secondly, prepare their students for the future. "We train people for society, so the first question is, in what society will you live and work? It is clear that it will be one that incorporates all these technologies", explains Esteve Almirall, professor of Operations, Innovation and Data Sciences at Esade. if there was a Apocalyptic and integrated —Umberto Eco's work on mass culture—disruptive technologies version, all the academic leaders consulted would present themselves as integrated. Although with precautions about privacy problems and the negative consequences of this digital revolution.
In February of this year, IE University inaugurated its Robotics and Artificial Intelligence laboratory, transversal to the entire institution, so that its students, regardless of the discipline they study, "develop their skills in these fields," it announced in a press release. For teachers, "ChatGPT is a quick and efficient research tool to get something started," says Lee Newman, Dean of IE Business School. For a brainstorm or a first compilation of material —as books or Google used to be, and still are—, which will then have to be analysed, verified and developed. "To learn Python, and knowledge like that, the chatbot works better than us," says Almirall, who predicts that AI will have an important path in non-regulated training. "There are those who resist," Newman alludes to the universities that have prohibited its use. "We think more about what doors it opens."
towards another way of teaching
If ChatGPT has shown that it is capable of passing exams with flying colors, "we will have to rethink the way in which we assess," Newman stresses. And at a deeper level to open up even to a new way of teaching. Pascual Parada, academic and innovation director at IEBS, believes that banning ChatGPT in the classroom is the same mistake made by those who once vetoed the academic use of the calculator. "What we have to do is change the way we are asking our students to do homework, so that it makes sense and their learning continues to grow," he adds. The AI ​​can, perhaps, do the summary and the person of the critical analysis will already take care of it. Everything is still very uncertain, complicated, as he admits, although he is clear that the well-to-do teacher has a serious problem with this type of tool.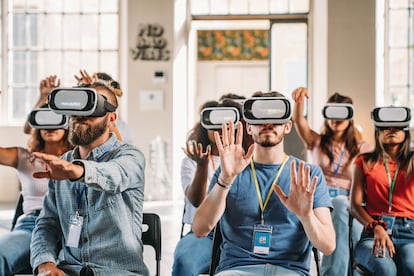 "There are always tensions between innovation and regulation," admits Almirall. "The ends are already regulated, how do you regulate the means?" he wonders. Philip Moscoso, professor and head of Executive Education at IESE, defends that students must understand the limitations, such as that there are no guarantees that information is true. This has been demonstrated by the hyperrealistic images of Pope Francis dressed in a white Balenciaga coat or of Donald Trump in custody, both false, generated by generative artificial intelligence; and it is a matter of (a short) time before videos begin to appear, as he warns. "Institutions, for their part, must assume the challenge of including these tools for the benefit of developing managerial skills, without prohibiting them in a general way," he notes.
Almirall observes that, with them, the starting point is raised, as if they were a springboard on which to continue driving progress "towards broader levels of quality, efficiency and productivity", in his words. "Like any technological disruption, we have a mixture of admiration and enthusiasm for the possibilities, but also caution and prudence for the potential risks that it implies," Moscoso points out. In the air floats the open letter signed by more than 1,100 researchers and businessmen (including Steve Wozniak or Elon Musk) to temporarily stop large experiments with AI until adequate security protocols are implemented. "We are in a fairly exploratory phase, testing its scope, limitations, and problems," acknowledges the head of IESE.
His comment applies to all technologies, from ChatGPT to quantum computing, which IESE has used in some sessions (it was one of the first institutions in the world to do so, according to the company that provides the service), for predictive problems, to classify credit quality profiles of a client analyzing millions of alternatives. "The first thing is to understand how they work," agrees Jaime Ortega, director of the MBA at Universidad Carlos III (UC3M). Second, focus on developing properly human capabilities. Affection, emotions, the search for beauty, "being aware of the meaning and reality of things", which goes beyond establishing logical relationships or accumulating data. "Everything that can be replaced by technology will be replaced," he says.
His students practice with real fire preparing, as a master's final project, the business plan of one of the start-ups that grow in the business incubator of the university; many work with big data and AI, making, as in the case of Intelmet, weather forecasts for aviation. But first, the UC3M MBA has introduced a subject on emerging technologies consisting of talks in which industry experts explain which ones their companies are using, how they are applying them and for what. Because the tools are great, but very generic, and may not be useful for business purposes. "In addition to the technical aspects, it is a good forum to discuss ethical considerations such as data privacy," Ortega says. He defends that AI must be safe, as well as the importance of ethics related to knowledge: "An ethical decision takes into account all aspects of reality; If you create value for your shareholders at the expense of the well-being of your employees, it is not an ethical decision".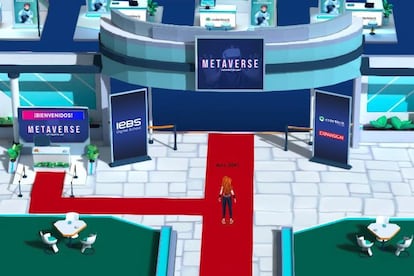 immersive models
These preliminary scores are valid, equally, for immersive technologies. The big business schools are already doing tests in the metaverse, very useful to serve as simulated scenarios for the practical training they offer, such as the case method. Parada says that an institution on-line As IEBS, without classrooms or physical campus, here are four (virtual) walls between which to put a class in context. "To the students of executive (MBA) we put them in the boardroom of a company; those of industry 4.0 in a factory with a robotic assembly line, even if they are not talking about robotization ", he describes. "Technology enables scalability," Newman says. Without it, personalizing the training to that point and getting all the students to train their abilities, face their fears or polish their weaknesses, would be financially unaffordable.
A student can approach the need to be collaborative and empathetic in the face of climate change from theory, listening to a speaker, but he will feel putting on a virtual reality (VR) goggles and experiencing the approach to home of a very strong storm that throws open the windows and crashes the crockery to the ground. That experience exists, it is called Eye in the storm (the eye of the storm) and created by IE for use in activities role play. Working with emotions is another of the great uses of VR, in Newman's opinion, which adds a third: "When it comes to meeting, it can replace Zoom, which is useful and fast, but in 2D, it is very flat" . Moscoso acknowledges that she is still little established in teaching practice due to all the logistics of glasses that she requires. "Until Apple presents theirs," she adds. The Apple Reality Pro, mixed reality -augmented and virtual-, are announced for June 5 of this year.
Everything is progressing very quickly, also in the collection and analysis of data to improve the teaching-learning process. "We have been working on collecting data from our students for two years," reports Parada. With this they are pressing, for now, the situation of their academic offer —which are the most successful subjects, or those below expectations— and the emotional state of the students throughout a course, which can be used to program the most complex subjects at those times of the year in which they show the greatest strength and ability to work. "In a class of 50, we can see who has downloaded what material; adapt the questions of the self-study exercises according to the mastery of the subject; check if someone has the Zoom on the first level or hidden, while looking at something else ", Moscoso lists possibilities.
The head of IESE compares this customization with that offered by stores on-line to his clients. "Electronic commerce has been doing it for a long time; universities and business schools are more at the beginning, but basically it is to achieve a differentiated training model ", he explains. See what common elements are within a class, and how to attend according to levels of interest and ability. "Most schools are going that way," toward a value-added proposition, she concludes. "The idea is to continue progressing and, in the future, be able to offer more adaptive and personalized training," Parada emphasizes. In short, and this is an ambition that is repeated in all the interviews, a better user experience.
Khanmigo, Microsoft 365, Copilot and company
Khan Academy, a non-profit organization that was born in 2006 with the purpose of "providing a free education for anyone, anywhere", shows in a demo video on YouTube the possibilities of its GPT-4 assistant, named Khanmigo, which is not yet available. The founder of Khan Academy, Salman Khan, asks Khanmigo to solve a first degree equation with two unknowns, to which he says no, but that he can help him in the process, offering him clues, and encouraging him with a feedback positive in every advance.
"We are at the beginning of a new era. This latest generation of artificial intelligence (AI) is fundamentally different," says Satya Nadella, president and CEO of Microsoft, in announcing, through a video on YouTube, your new tool: Microsoft 365 Copilot. "The most powerful tool for work on the planet," Jared Spataro, Microsoft corporate vice president, further emphasizes in the same presentation. With which "you can be more creative in Word, more analytical in Excel, more expressive in PowerPoint, and more productive in Outlook. And even more collaborative in Teams ", he details.
ChatGPT can be used to help personalize and improve training and productivity—the two examples above demonstrate the potential of AI in this regard—or it can be asked how to build a bomb. The journalist from ABC News Rebecca Jarvis touches on the second and disturbing scenario, that of potential risks, when she chats with Sam Altman, CEO of OpenAI (interview also available on YouTube), while Altman, while acknowledging "being a little scared" by the power of the technology they have created, prefers to talk about its benefits, and cites the educational ones as an example.
"Education is going to change completely"; "This technology is going to help provide personalized teaching," he explains on camera. "Won't it put a lot of pressure on the teachers?" asks the interviewer. "I have spoken with a lot of them, and many like it, because they understand that it will help them to be better. They say, 'this is a tool to do my job better', answers the interviewee.