Additive manufacturing has revolutionized the field of medicine, especially in surgical planning and personalized medicine. The ability to create three-dimensional objects from digital models has allowed healthcare professionals to improve the precision and efficiency of medical procedures. In surgical planning, 3D printing is used to create exact replicas of a patient's specific organs, bones, or anatomical structures. These replicas, based on diagnostic images, allow surgeons to study the procedure before the actual operation. This would allow reducing times, improving precision and minimizing the associated risks. In Spain, one of the organizations that use these technologies in their activity is Cella Medical Solutions. We spoke with his team to learn more about the tools they use in the field of personalized medicine.
3DN: Can you introduce yourself and tell us about your relationship with 3D technologies?
I am Miguel Ángel Navarro, Head of Engineering at Cella Medical Solutions. During my Industrial Electronic Engineering studies I discovered the exciting world of 3D printing, in 2014 I developed my first printer and began to investigate the countless applications it offered. In 2016 I met Darío García and Miguel Rodriguez, who had recently founded Cella. They conveyed to me the need to support surgeons in solving complex surgeries using, among others, 3D printing technologies. I was so fascinated with the project that 7 years later I am still leading the development in additive manufacturing, developing products and applications in the clinical field. Later, and with my career focused on the health sector, I decided to expand my studies in Biomedical Engineering, this has allowed me to consolidate my knowledge to support the company in the development of high-level clinical applications.
3DN: What is Cella and what is the company's mission?
Cella Medical Solutions is a Spanish company that develops advanced technological services to help surgeons during the planning of complex surgeries. To do this, we develop applications with 3D printing, augmented reality and cloud computing based on the segmentation of medical images using advanced image algorithms. Our mission is to contribute to the patient's health by creating services of high clinical and technological value, focusing on the surgeon's needs. We are currently a team of 90 people made up from radiologists to engineers who work to provide high-level solutions. Cella is committed to Innovation, which is why a large part of the team is dedicated to Research and Development tasks that nurture the creation of new products.
3DN: What 3D printing technologies do you have? What kind of projects have you carried out?
At Cella we create life-size sterilizable models of the specific anatomy and pathology of each patient to help surgeons plan complex surgeries. Each clinical case goes through a study process to make a 3D printing version adapted to the surgical procedure, differentiating the structures by colors and topologies. The added value of these models resides in the haptic sensation and the visualization options that they provide to the surgeon during surgery.
We have used and tested most of the 3D printing technologies such as SLA, Multi Jet Fusion, ColorJet Printing among others. Always aware of the development of technologies compatible with our processes. For production models we use FDM, this technology gives us outstanding versatility and efficiency. We have had to adapt the printing processes to create a production line that can deal with more than 1,000 clinical cases estimated for this year in the 3D printing modality, being a portion of the total number of virtual cases on the platform.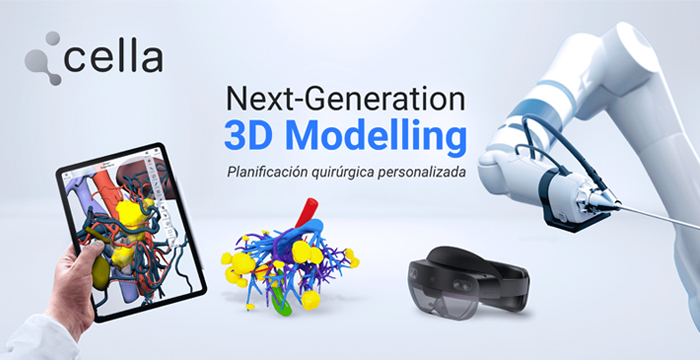 In the surgical planning portfolio, we developed models mainly for endosurgery, we started with liver surgery and we have expanded specialties to a total of 12 medical-surgical services and numerous procedures. In turn, we have lines of development in surgical guides in 3D printing with biocompatible material applicable in different pathologies.
3DN: What advantages does this production method offer in the medical field? Are there any limitations?
Mainly versatility. All the specific patient models require a very precise and meticulous approach and modeling following the objectives transferred by the surgeon. This technology allows us to give an agile and efficient response to surgeons.
Quality processes are a fundamental part in the production of Cella 3D models due to their involvement in the planning of surgery. That is why our 3D models are subjected to strict quality standards, essential to guarantee adaptation to the surgeon's indications and compliance with the objectives, precision and efficiency in surgical procedures. All critical aspects for surgery are reviewed based on anatomy, pathology, and surgical procedure, and are signed off by radiologists.
We can differentiate between planning and simulation models. The latter are focused so that the surgeon can train the surgery. We work with simulation centers to develop solutions that replicate the behavior of anatomical tissues. Currently there are technological limitations in achieving a scalable and profitable process in this type of model, we are working on implementing these materials.
3DN: How do you see the future of additive manufacturing in medicine?
Years ago the simple use of this technology was differentiating, now it is not enough. The use of additive manufacturing in medicine is already a fact and at Cella it is part of the normal production process. Going deeper into each of the applications is where the added value provided by 3D printing resides. For this reason, it is important to work hand in hand with the surgical team to develop applications of high clinical value.
Physical models will evolve by combining different technologies to provide a complete model that provides maximum information. We are developing hybrid models that combine all the valuable clinical information. This is how the virtual models of the Cella Surgical Planner are provided on the physical models by superimposing by augmented reality.
3DN: Any last words for the readers?
Cella puts the patient in the center. For this reason, it is crucial to listen to the needs of clinicians and create working groups where great proposals and very ambitious developments will emerge. It is important to ensure good practices and follow the regulation that recently came into force (MDR 745), these are the rules of the game, especially for devices for surgical use. Although this entails longer execution times and delays bureaucratic processes, engineers and clinical teams must continue to develop high-value applications that have an impact on the well-being of patients.
You can find more information about Cella on their website, here.
What do you think of Cella and its use of 3D technologies? Leave your comments on our social networks: Facebook, Twitter, Youtube and RSS. Follow all the information about 3D printing in our weekly Newsletter.
*All photo credits: Cella Medical Solutions