Bitcoin technology, with numerous digital assets on the market, is widely developed and reaching an ever-widening audience. Now, everything indicates that artificial intelligence (AI) will be your dance partner according to a study by the KuCoin exchange published today, May 25.
The report to which CriptoNoticias had access is entitled "AI & Blockchain Tango". It was carried out with the aim of understand the perspectives and aspirations of users of different ages. It reveals, in all cases, a growing adoption and acceptance of AI among cryptocurrency users. In addition, it highlights a growing demand for efficiency and personalization in the use of AI, especially in education, labor efficiency, healthcare, and security and risk management.
The most popular artificial intelligence applications among cryptocurrency users include generative AI for text, such as ChatGPT, which was preferred by 51% of respondents.
Navigation apps and AI voice assistants were also highly rated for their practicality and convenience.
AI-generated creative content and AI-powered trading tools are gaining popularity, especially among users of the generation Y (millennials). A piece of data of special interest is that 59% of those surveyed expressed the desire to see advances in artificial intelligence applied to cryptocurrency trading.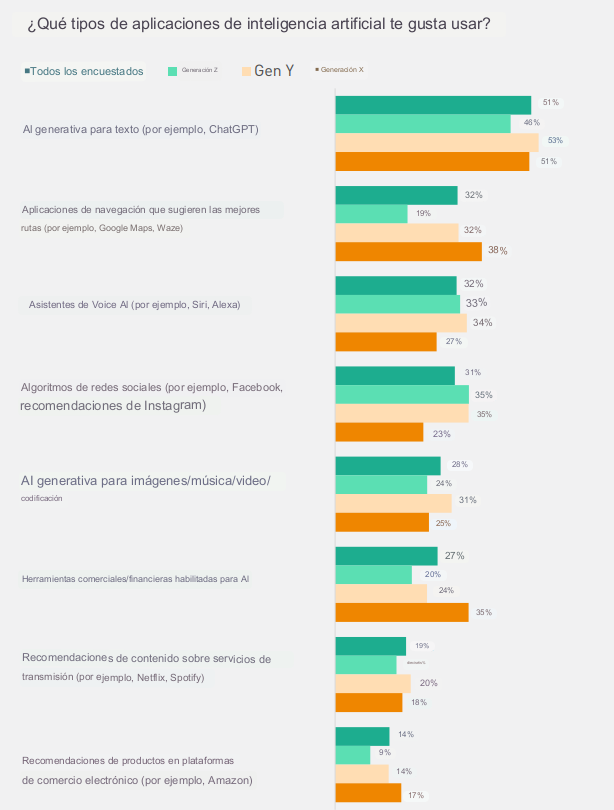 However, not everything is rosy in this dance between AI and cryptocurrencies. The privacy and security concerns were the main concern for 48% of users. The centralization of power that results from the implementation of AI is particularly worrying for users of the generation Xwho also they worry about the possible loss of jobs caused by this technology.
Despite these concerns, KuCoin CEO Johnny Lyu is optimistic about the study's findings. "The enthusiastic response from our users about the integration of AI and the efficiency of the blockchain is incredibly encouraging," he said.
This study is an important step towards understanding the intersection between AI and cryptocurrency. As technology continues to evolve, findings in this field will help shape the future direction of the industry.