Voice assistants like Siri, Alexa, Ok Google, or Bixby are primarily easy-to-use music players, quick responders on simple questions, digital photo frames (the ones with a screen), an alarm clock, or a switch. But these functions, which can also be performed with mobile phones, do not by themselves guarantee their future viability. One of the pillars of its development was voice commerce (voice commerce), a sector that the consulting firm Nielsen predicts will account for 2% of purchases in 2025. While waiting for this option to consolidate, large technology companies such as Google, Microsoft, Samsung, Meta or Elon Musk's companies are They have focused on the possibilities that generative artificial intelligence can bring to their products. The giant Amazon has its own strategy: use this new tool to make Alexa the center of the home, the connection point for all household appliances, the computer for daily and routine actions, a butler.
Alexa is built into more than 300 million devices from Amazon and other brands. Despite this penetration, some media came to describe it as the company's great failure. Vishal Sharma, vice president at Amazon and head of artificial intelligence for Alexa, denies it: "It has never been a failure. If you look at the usage statistics or the number of connected devices, you can see that they have grown". According to the company, interactions with the assistant grew by more than 30% last year in the world (in Spain it claims that the increase was 40%) and half of the users used it to buy.
Alexa has never been a failure. If you look at the usage statistics or the number of connected devices, you can see that they have grown

Vishal Sharma, Vice President at Amazon and Head of Artificial Intelligence for Alexa
Sharma, during a meeting with the international press, to which EL PAÍS was invited, defends that the company, far from letting the assistant languish, has redoubled its commitment to him to take advantage of advances in artificial intelligence and turn it into a nerve center of the home.
The reason is explained by Dave Limp, also vice president of the company and head of devices and services. "The mobile phone has driven most of the innovation in the industry: the miniaturization of cameras, new sensors, batteries… But the home, where we spend much of our time, has been ignored."
"The house is incredibly manual. The industry has been automating other areas, but not the home. So we have developed this vision that consists of the home acting for the benefit of those who inhabit it, doing tasks, being proactive (anticipating from learning routines). It is what we call ambient intelligence", summarizes Limp.
Sharma explains that this automation through spoken commands has not occurred before due to the complexity involved in the heterogeneity of voices and the presence of noises that must be discriminated to give a "reliable" response, which he recognizes as one of the keys to the system. : if you are asked to turn on a light, do so and be the one required.
The other key is the routine, that the assistant understands that a sequence of repeated actions responds to a habitual pattern and groups them under a single command.
The mobile phone has driven most of the innovation in the industry. But home, where we spend much of our time, has been ignored.

Dave Limp, Amazon vice president responsible for devices and services
Marja Koopmans, director of the smart home laboratory, shows it in a reproduction of a home at Amazon's headquarters in Seattle (USA). If she says "Alexa, I'm leaving," the assistant locks the door and automatically turns off all lights and devices except those programmed to operate in the family's absence, like the vacuum cleaner. When Alexa wakes her up, she turns on the lights, reports the current and forecast weather, reads the calendar aloud, and starts the shower and coffee maker.
Koopmans details four main reasons for developing this smart home: it makes tasks easier, it offers entertainment (music, television, games…), it provides security for people (mainly the elderly and children) and property (remote monitoring of the home) and it is more sustainable, by facilitating the shutdown of devices that are not in use.
For Vishal Sharma, the integration of all the devices in a single assistant provides a substantial advantage over the mobile, which can perform similar functions, or manual action: "It doesn't require you to pick up your phone and do like 1,800 things or have to scroll through whole place. It just works without worrying about what technology is behind it."
Our policy is not so much to make money with the devices as with the use

vishal sharma
The prices vary depending on the device that is used as a command center (between 100 and 250 euros), the smart plugs that are used (there are from nine euros per unit), and the compatible electrical appliances that are purchased or to which they can be connected. incorporate elements that integrate with Alexa (such as Fire TV Stick or Cube). "Our policy is not so much to make money from devices as from usage," Sharma says.
The great challenge of a connected life is data security and privacy. Mattia Epifani, digital forensics and instructor at the SANS Institute, states in MIT Technology Review: "It can be a location, a message, an image… It can be anything. Maybe it can also be a user's heart rate or how many steps he took. And all of these things are basically stored in electronic devices."
Leila Rouhi, Amazon's head of trust and privacy, admits that it is a priority, that mistakes have been made and that they have learned from them. "If we make a mistake, we break the user's trust and it's incredibly difficult for us to get it back. That's why it's really important that we think about privacy and trust, which means investing in inclusive AI to ensure it."
For Rouhi, the fundamental principles are transparency, "never sell users' personal information" and always give them the option of not recording data, images or sounds.
We never sell users' personal information

Leila Rouhi, Amazon Trust and Privacy Officer
This commitment clashes with the permanent need to learn devices through experience. To discern the voice of a child or an elderly person, a woman or a man, or the different accents of the same language, machines have to have examples. Amazon claims that supervised learning is used for this task, with permanent checks.
Sharma insists that the issue of security and privacy is taken "very seriously." "We are transparent with what happens under the surface and the possibility of erasing what you want forever is always available," he says.
In addition to supervised learning, some devices only store information internally or do not record any information unless they are intentionally activated. But the use of data is essential. Alexa's intelligence manager explains it with an analogy: "If you talk to a friend, you want them to remember what you said, especially if that friend does things for you, assisting you." However, he concludes: "We will move heaven and earth to protect privacy and ensure security."
The speed race of the giants
The strategy of deploying artificial intelligence (AI) across the board is common among tech giants, but it has become a fast-paced race when signs of industry recovery are visible.
Microsoft has invested $10 billion in OpenAI, the company behind the ChatGPT chatbot that it has integrated into its Bing search engine. But it is only one step. The multinational has reported that it will incorporate artificial intelligence into other products because, according to Satya Nadella, executive director of Microsoft, it opens "a new era of computing."
Last March, South Korean consumer electronics giant Samsung shook the tech sector by admitting it was considering replacing Google with Bing as the default search engine on its devices.
Google's response has been to speed up the creation of new AI systems and update existing ones with AI features. The objective of the project, called Magi, is to offer users, as in Amazon's strategy, a personalized experience, anticipating the needs of users.
Faced with ChatGPT, Google has responded urgently with Bard. But artificial intelligence is not new to the company. Its subsidiary DeepMind has spent years researching its application in language models and autonomous cars, as well as in its own search engine or in music playback functions or even in programming.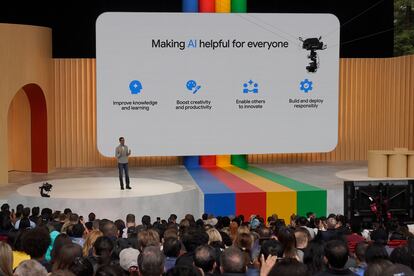 Even Elon Musk, founder of Tesla, new owner of Twitter and creator of SpaceX, has joined the race, despite warning of the potential dangers of this technology. According to The New York TimesMusk intends to create a new artificial intelligence company called X.AI and a rival to ChatGPT.
Amazon itself, in its web services (AWS) division, has made natural language models (LLM for Large Language Model), grouped under the name Titan, and a cloud computing service called Bedrock "for creating and scaling generative AI applications", such as creating text, images, audio and data on demand.
Meta has introduced this month a new open source tool called ImageBind that, according to the company, will be able to relate the objects in a photograph with their sound, their three-dimensional shape or their movement and create images from noise. In the future they aspire to provide the machine with sensitivities such as touch and smell, bringing it closer to human capabilities. Another open source artificial intelligence tool is the LLM Meta AI, with which it aims to compete with ChatGPT and other similar applications.
You can write to rlimon@elpais.es, follow THE COUNTRY Technology in Facebook and Twitter or sign up here to receive our weekly newsletter.