A place where innovation and talent flow, companies and startups cooperate and promote industry 4.0, which arises as a result of digital transformation, in one of its main centers in southern Europe. With this vocation, DFactory Barcelona was born, an initiative led by the Consorci de la Zona Franca de Barcelona that makes available to different companies and projects a 17,000 m2 space in which 30 companies and some 500 people already work, 80% of their full occupancy.
Designed by the Barcelona studio TurullSørensen Arquitectos, together with PGI-Torrella, DFactory Barcelona is created by taking the spirit of the city's industrial tradition and bringing it to the present day. To this end, each of its four floors has a large central production space, facilitating the development of knowledge and communication between its different professionals.
The companies that are already carrying out their activity at DFactory Barcelona make up a fresco of innovation and advanced technological applications, in fields ranging from robotics to Artificial Intelligence, cybersecurity or 3D printing. Among the latter, we find companies such as HP, AsorCAD, Windforce or Excelencia-Tech Stratasys, specialists in 3D scanning and printing; Mastertec 3D, dedicated to the health and education industry, or Siocast, which has developed a new plastic injection technology.
Other of the proposals that work in DFactory Barcelona focus on services linked to sustainability. This is the case of Girbau, specialized in solutions for laundry, or Amphos21, scientific and technical consultancy for environmental problems. Among the companies that use technology to improve industrial processes are Ariño Design, dedicated to the creation of transformed glass for architecture, or Witeklab, which develops sensor technology for the construction field. OnRobot, for its part, applies robotics to industrial processes.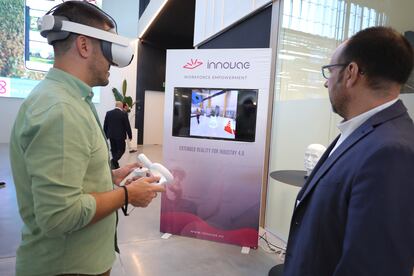 Companies such as VDMHealth, which develops software for the health sector using artificial intelligence; Nexiona, an expert in applying the Internet of Things in industrial facilities, or IMHOIT, which develops security, certification and traceability of that same technology.
Hubmaster, creator of warehouse automation solutions, or Innovae, which relies on augmented reality and virtual reality to apply them to industry 4.0., are other companies present. There is also room for companies dedicated to technology consulting such as NTT Data, Leitat or Malena Engineering. A center to promote industry 4.0.